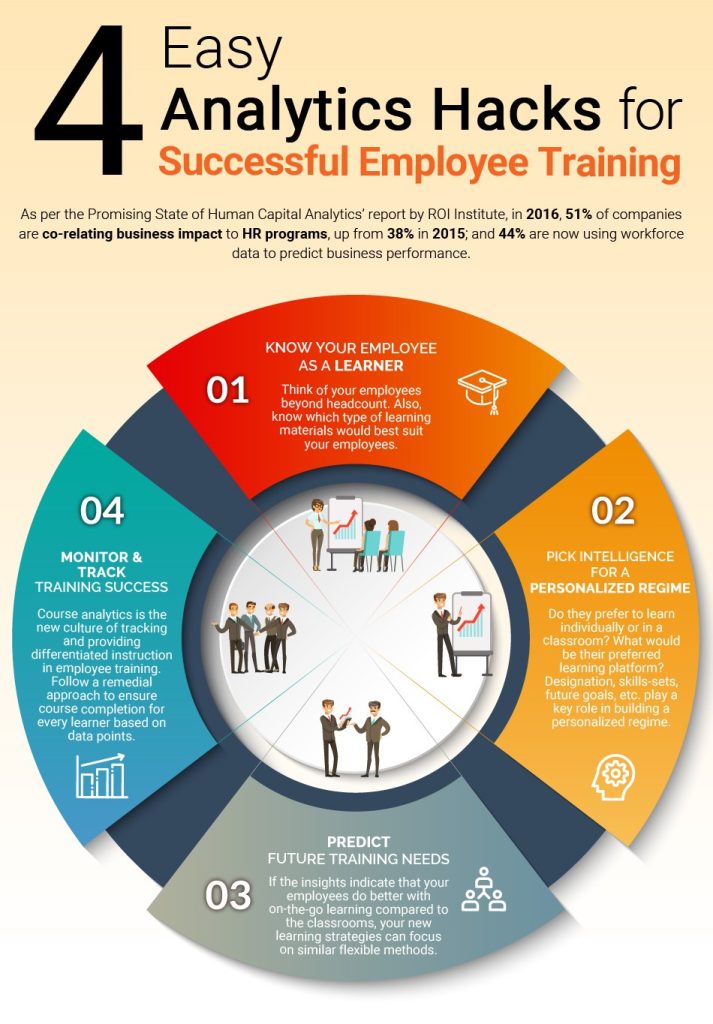 Data analytics generates a lot of excitement in the corporate field. The world is talking about how companies are using big data & analytics to know their customer better. The same science, when applied to Learning & Development, is transformational in employee development and workforce performance.
Wikipedia defines learning analytics as the measurement, collection, analysis and reporting of data about learners and their contexts, for purposes of understanding and optimizing learning and the environments in which it occurs.
According to 'The Promising State of Human Capital Analytics' report by ROI Institute, in 2016, 51% of companies are co-relating business impact to HR programs, up from 38% in 2015; and 44% are now using workforce data to predict business performance.
So, why shoot arrows in the dark when planning your training and development strategy? Instead, get scientific and intelligence-driven with learner analytics plugged in your learning and development.
Here are four simple ways to hack your learner's mind and drive success in your employee training.
1.Know your employee as a learner
Think of your employees beyond headcount. It's important to know them as learners to build a successful employee training strategy. They are smart, educated, skilled minds working for your organization. Wouldn't it be great if you knew their training expectations? Also, if you could know which type of learning materials would be best-suited for your employees? Do they prefer a social media platform or an online forum, or do they find learning easier with webinar, blogs, videos or podcast? Will a negotiation skills be more effective for the sales teams or an exposure to strategic account management best practices help them in their performance?
Learning analytics can help you answer all such questions so that you are able to provide your employees a training that would just be perfect for them.
2.Pick intelligence for a personalized regime
What information do you have on your next training batch beyond your learners names and departments? Do they prefer to learn individually or in a classroom? What would be their preferred learning platform?
Deep dive into your training and development strategy and shift gears from a reactive to an adaptive one. Identify the key data points that you want access to for making better strategy and delivery decisions. Designation, skills-sets, future goals, certifications wish list, digital preferences and many such data points. An exhaustive pre-training exercise can identify intervention areas across teams that are critical so that you can create customized/personalized training calendar around them. Learner analytics brings you closer to your employees like no other tool. It is the fastest, simplest and easiest way to get to know your employees beyond their education & work experience.
3.Predict future training needs
Learning analytics can help you predict the upcoming trends. For example, if the insights indicate that your employees do better with on-the-go learning compared to the classrooms, your new learning strategies can focus on similar flexible methods. Similarly, you can also predict your return on investment (ROI) for your training programs.
People analytics in HR has taken off in many progressive organizations where they have caught up to the opportunity. Many of them have realized that you need to have a diagnostic mechanism to understand what is ailing the employees & teams before you plan your capacity building program.
4.Monitor & track training success
Why wait until the end to intervene when you can coach them all along their journey? Course analytics is the new culture of tracking and providing differentiated instruction as the next level of personalization in employee training. You can follow a remedial approach to ensure course completion for every learner based on data points.
Get the complete picture of how many learners logged-in, how many hours did they spend on the modules, how many completed them, what were their learning patterns and similar data points to monitor and track course engagement. You can get the exact metrics of the learner-content interaction with chapter-wise insights of each training module displayed as easy-to-comprehend visual charts and graphs.
Hurix Digital has been a trusted learning strategy partner for 350+ clients in 20+ countries keeping them ahead on the Digital Learning Curve. Our interactivity packed multimedia-rich course modules with analytics feature delights modern learners with business-focused and skills-customized eLearning solutions every day. Although learning analytics may take a while to fully integrate into HR practices, it can have an immediate impact on predicting the way your employees learn and tracking their learning. Talk to us to know how it can work for your company.